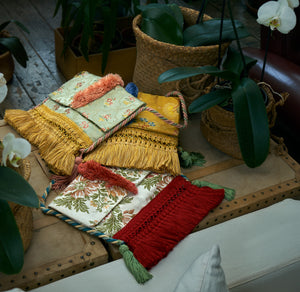 NEW IN
Our Sciascina bags are made out of upholstery precious fabric's leftovers.
Most of our trims and cords are "never used" vintage elements. Therefore every bag is a unique piece assembled one by one in an artisanal way.
We love to give new life to what would be waisted even if it requires an enormous amount of time, and of course a lot of passion.
PHILOSOPHY
MALAGA4 collection is created from vintage fabrics and trims that have never been used, the result of our extensive ongoing research in ateliers and warehouses across the upholstery world.
Bringing new life to these rich textiles in the form of bags is our way of recycling them.
Our collection, leather-free, is proudly manufactured in Italy and most pieces are made in collaboration with IAMALICE which is a wonderful social cooperative whose mission is to restore women's dignity through ethical work.